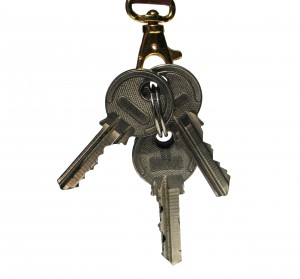 What is your biggest fear when it comes to using a pet sitter? Is it that they won't show up to take care of your pets? What about the idea of you being away on vacation and your pet sitter is unable to get into your house?
I believe the two fears just listed are not only a client's biggest fears but also the pet sitter's biggest fears! We aren't going to talk about missed visits today – but what we ARE going to talk about is the risk of your pet sitter not being able to get into your home.
I was scheduled to take care of a wonderful cat client of ours recently. Everything was all set: visits were scheduled, instructions were updated and payment was made. Unfortunately I wasn't as organized as I had thought I was.
The morning the first visit was scheduled to begin, I was gathering my keys for the day and lo and behold…I had misplaced the client's key somehow.
All of our keys are secretly coded so I wasn't concerned about someone finding the key, however I was very concerned about just how I was supposed to take care of the kitty since I had no back up key.
Luckily, this particular client lived in an apartment complex where I was able to get in touch with the manager, show him our service contract stating that I was authorized to be in the client's apartment and he gave me their backup keys to take care of the kitty for the length of my client's trip.
I felt awful about it and imagine my client's initial panic when I had to call her and tell her that the key was missing.
Though this is does not happen often, pet sitters are human beings who lose things and make mistakes. So how do we prevent these mistakes from interfering with our ability to provide you and your pets with outstanding pet sitting services no matter what?
We require 2 sets of keys for your home! One set is in our "active file" and is the main key that will be used any time we need to take care of your pets. The second key is kept locked up securely as an "emergency use only" key so that in the unfortunate event our active key gets misplaced, we are quickly able to grab the back up key and continue with services as normal. No stress, no panic and no interruption of the exceptional pet care your pets are waiting for!