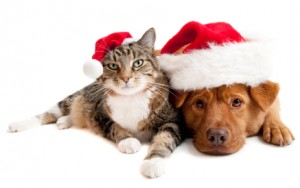 Is it just me or is it absolutely crazy that the holidays are here again already?
It feels like just yesterday we were enjoying the weather getting warmer and school getting out for the summer, now it's that time of the year again!
With the holidays right around the corner and many of us owning our own pets and at least one or two pet lovers on our holiday shopping list, wouldn't it be great to know where to go and shop for them this year?
Well, you're in luck! We've made it easy for you. Below are a list of the best places to shop for those pet/pet lovers on your list in (or around) the Northville area.
Celebrity Pets Co and Pet Land both carry are wide variety of toys for dogs. Some of the toys they carry are unique and you can't find them at large chain stores.
These stores also specialize in fashionable doggy outfits, designer style leashes and collars as well as purses to carry around your little one in. Not to mention the designer style food bowls, water dishes and treat jars.
If you're looking for a more boutique style shopping experience, you'll want to visit these stores:
Celebrity Pets Co: 124 N Center St, Northville
Celebrity Pets Co: 37574 W 6 Mile Rd, Livonia
Pet Land: 27200 Novi Rd, Novi
Looking for pretty much everything under the sun from cats and dogs to bunnies and hamsters? Petsmart, Petco and Pet Supplies Plus are where you're headed.
Not only do they carry a large stock of…well pretty much everything for most domestic animals, they also have a large amount of merchandise for pet owners themselves.
From blankets to coffee mugs, flags to mouse pads, these stores have a wide variety of "pet lover" gifts to chose from.
Petsmart: 17677 Haggerty Rd, Northville
PetCo: 43465 Ford Rd, Canton
Pet Supplies Plus: 41660 West 10 Mile Road, Novi
Happy shopping and have a Merry Christmas!