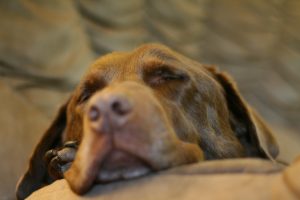 Traveling for business? Planning a family vacation? Weekend getaway planned with you and your spouse? It's fun to travel and experience the world outside of Northville…unless you have pets. What do you do with them while you're away? Who will take care of them? Sometimes the stress of finding pet care is enough to keep pet parents from traveling and enjoying life.
If you're one of the unfortunate pet parents out there who haven't traveled in ages because you just don't know what to do with your fur babies – here are some options to consider so you can go out and enjoy the world without worrying about your pets:
In-Home Pet Sitting
Hiring a professional pet sitter to come into your home 1-4 times a day or stay overnight to take care of your babies is a great pet care option. Not only do your pets get to stay in the comfort of their own home and stay on their regular routines, you also have the added benefit of having your home regularly checked on and cared for as well.
With in-home pet sitting you don't have to worry about pick-up and drop-off times, updating vaccines or exposure to other pets. Pet sitting is a very personalized service that provides your pet with one on one attention and care that's customized to your fur baby.
Boarding Facilities 
Don't like the idea of someone coming into your home? Maybe your dog has severe separation anxiety and doesn't do well when left alone for any length of time?
Taking your pet to a boarding facility may be more to you and your pet's liking. With boarding, your dogs (and cats) can regularly play with other friends and burn off energy, by regularly supervised by staff and you can even pay a bit extra to get extras like one-on-one play time with the staff or a walk.
Boarding facilities can be a great place for socialization and a good cure for loneliness in dogs that cannot handle being left at home alone.
Private In-Home Boarding
Like the idea of boarding but not the idea of your pet being around hoards of other animals in a loud facility? Check out private, in-home boarding.
In-home boarding can vary widely from your pet being the only animal in the home, to having several other playmates to bunk with during their stay. You get all of the benefits of boarding without your pet being exposed to the noise and amount of pets at a facility. In-home boarding can be your pet's "home away from home".
Conclusion 
Only you know what would be best for your babies (and your peace of mind). Do plenty of research on the different pet care options and also the care-providers out there and you will be able to find a reliable pet care situation that will give you peace of mind and allow you to get out there and enjoy all the things traveling has to offer.