Halloween is a lot of fun for humans; dressing up, getting candy, spooky decorations, but for a dog or a cat Halloween can be an absolute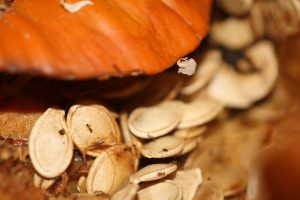 nightmare.
Cat's who are skittish may get upset by the constant door bell ringing, dog's may be afraid of children's costumes or loud noises from Halloween displays. How can you help Halloween be a less stressful experience for your pets? Check out these tips/ideas:
Give your pet good exercise before trick or treating starts. Take the dog for a good walk or play with your cat's favorite string toy until they've gotten a good work out. The less pent up physical energy your pet has, the easier it will be for them to mentally calm down.
Provide your pets with their own treats. Get your pet some special treats, new toys or a special meal so they associate Halloween festivities with positive/exciting things for them too!
Create a safe zone. Put your dog or cat into a room far away from the front door. Keeping them in a room with the TV or music on plus their special new toys and treats will keep them away from the chaos and calm and happy. It will also keep them safe as a curious or scared pet can easily dart out the door when trick or treaters knock.
If your pet is completely unfazed by all this Halloween hubbub then let them join in the fun! Some dogs aren't bothered by children running around, screaming, in funny looking outfits and some cats are continent to watch the festivities from their favorite window. The key to a safe and enjoyable holiday is to know your pet and respect their limitations and fears.
To all of our pet loving families in Northville/Novi we wish you a safe and happy Halloween!