Just because you may have been working from home during 2020 doesn't mean you haven't needed a little extra help taking care of your dog but the question is, should you hire a dog walker or send your dog to daycare?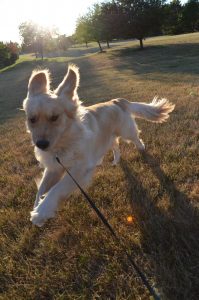 Both options have their positives so we thought we'd break them down to help you decide which option is best for you and your dog.
Pros of Hiring a Dog Walker
You don't need to leave your home. When you hire a dog walker we come right to you and you don't have to leave the comfort of your own home!
Schedule around your meetings. It's fun to spend more time with your dog now that you get to work from home, until it isn't. It's not easy holding virtual meetings or phone conferences with a barking dog in the background or bothering you to go out to potty. Even if you leave them in another part of the house your mind can be distracted on worrying about what they're doing leaving you less focused on work. You can schedule your dog walker to show up and walk your dog during your busiest time of the day leaving you free to focus!
Set your dog up for future success. It may seem like an impossibility right now but eventually life will become more normal and we will return to working more face to face. Your dog will be used to you being home all the time and the shock of you suddenly returning to work will be stressful for them. If you've already established a routine with a dog walker, your dog will have a structure to depend on when things change. Even though mommy and daddy are back to work they can still count on their buddy to show up to walk them each day!
Less germs for your pup. Even with vaccines dogs can still be susceptible to picking up illnesses from each other in large play groups. Keeping your pup in their home keeps the risk of them picking up illnesses like kennel cough, to a minimum.
Pros of Doggy Daycare
Your dog can be out of the house for the day. Having your high energy pup gone for several hours can help you focus longer on work and even let you get some cleaning done without worrying about what your dog might be getting into
Your dog can play with other dogs. Humans may be stuck social distancing right now but that doesn't mean our dogs have to! If your pup loves socializing it could be great for them to get out and just be a dog with his buddies for the day.
Regardless of whether you chose a dog walker or daycare, be sure you do your research and go with a company/facility that is well reviewed, reliable and makes you and your dog feel comfortable.
Having some help with your dog's daily care can be stress relieving for you and fun for your dog no matter what route you decide is best for your and your pup!