One of the main reasons people often consider getting a dog walker is because they need help during work days. Midday potty breaks are a huge help to dog and owner a like but that is not the only benefit to have a dog walker!
Benefits of a dog walker: For you
Being able to enjoy your lunch break without having to rush home to let your dog out to potty can make a huge d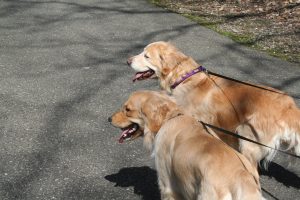 ifference in your day. Not having to worry about your dog being alone for too long while knowing they're in good care brings so much peace of mind.
Another benefit is being able to come home to a dog who is not bouncing off the walls! Lets face it, it would be boring to sit at home alone with nothing to do for 8 hours. We wouldn't enjoy it so we do we expect our dogs to? A midday break gives them just that, a break! So they don't feel as cooped up by time you get home at night.
Lastly, another huge benefit to having a professional dog walker is the reliability. If you suddenly have to be in meetings all day or the boss is making you stay late, having someone to call for help is priceless.
Benefits of a dog walker: F
or your dog
As we already mentioned above, being alone with nothing to do for 8 hours is BORING! Your dog will be so happy to have a friend to play with in the middle of the day. It is not only good for them mentally but physically.
Which brings us to the next benefit, a midday dog walk is good for your dog's physical health. Getting out for a walk helps prevent obesity, increases energy, reduces blood pressure and creates an overall sense of well being.
Hiring a dog walker has so many benefits, even beyond what we've covered here. If you have been considering hiring one for your dog, why not call today to find out what its all about?